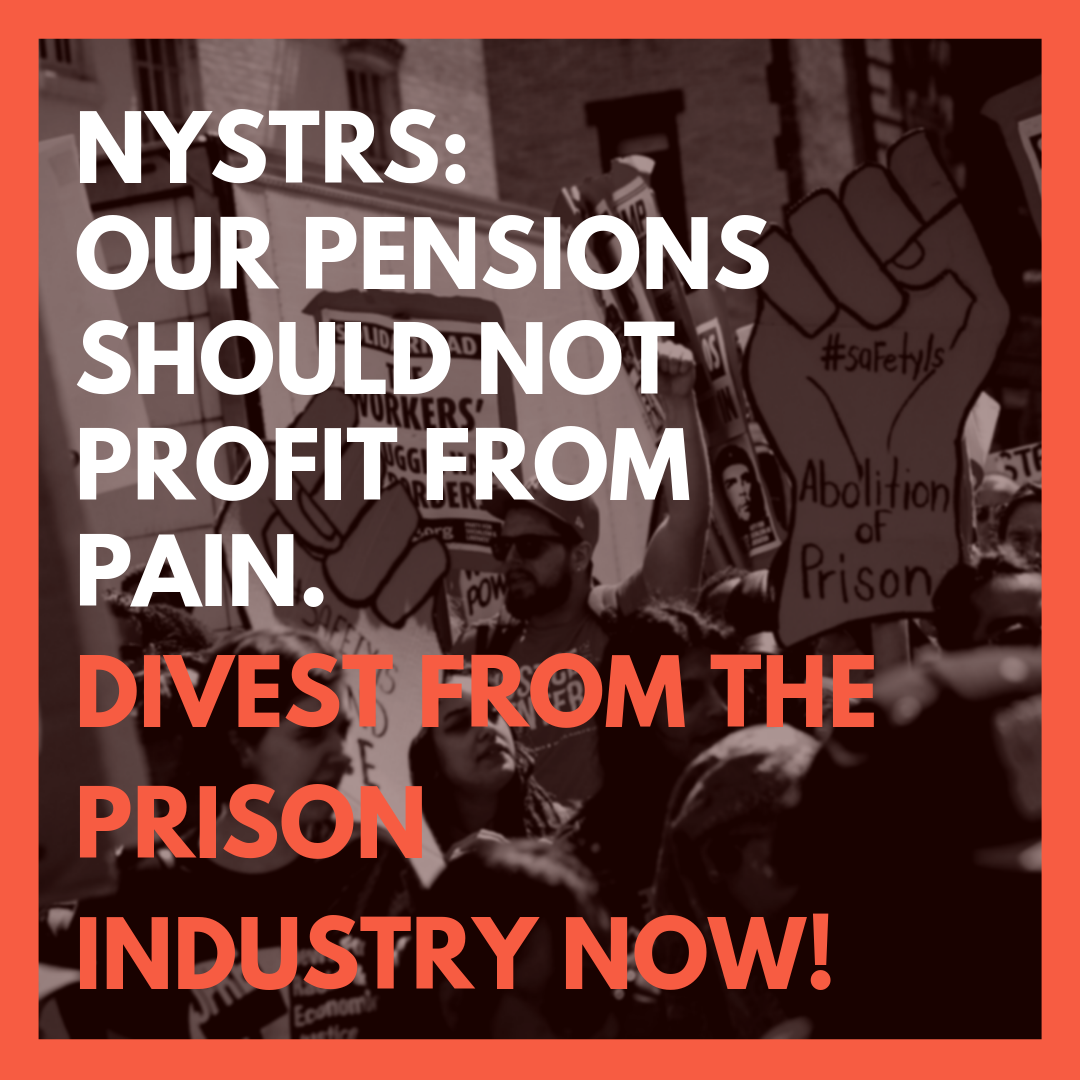 Demand the New York State Teachers Retirement System Divest from the Prison Industry!
Educators and public employees across NY State are demanding the New York State Teacher Retirement System divest from prison companies CoreCivic and GEO Group.
NYSTRS is investing pensioners' money in companies that are profiting off of pain – owning hundreds of thousands of shares in prison industry companies: Core Civic and The GEO Group. CoreCivic and Geo Group are two of the largest corporations cashing in on the private prison industry, who make billions in revenue every year off of the incarceration and detention of our communities. These companies also lobby for "tough on crime" policies and other policies which disproportionately criminalize Black and brown communities, immigrant communities, and poor and working class communities.
While other pension funds across the country, and across the state, have divested from CoreCivic and GEO Group in response to the companies' pattern of human rights abuses and the risk such conduct poses to pensioners' investment return, NYSTRS has yet to take action. In June, 2017 The New York City Pension System, which includes New York City teacher pensions, announced that they would divest from the prison industry.
Continuing to invest in CoreCivic and GEO makes NYSTRS complicit in the Prison industrial complex and the school-to-prison pipeline. We call on NYSTRS to immediately divest.
Freedom to Thrive is a
national network

of Black and brown communities and allies.

Join us to end the criminal and immigration systems. If our vision resonates with you or your organization, let's collaborate.
If you prefer to make an offline or large donation, or set up a giving plan, contact catherine@freedomtothrive.org to learn about your giving options.
Sustain the Work
Contribute monthly towards our fight against criminalization
Stay Connected
Get regular updates on our mailing list